A detailed review of the Rocky Mountain Suzi-Q 27.5" fatbike, and comparison with the Rocky Mountain Blizzard.
The Roll-Out
The Suzi-Q is the newest fatbike from Canadian company Rocky Mountain. In a departure from their previous 26x4.8" fat tire Blizzard lineup, the Suzi-Q has 27.5" wheels sporting 3.8" tires, making it one of only a few bikes manufacturers (alongside Otso Cycles and Trek) so far using this tire size. Although the Trek Farley shares the wheel diameter, it has a wider rear axle and wider Q-factor changing the dynamics significantly. The Otso is is much more like the Suzi-Q, and feedback on that bike has been exceptionally positive. So the related question on everyone's mind is whether this wheel and tire format will catch on and stay around. I sure hope so, because the ride of the Suzi-Q absolutely lives up to the hype, and the goals of the engineers at Rocky.
In many ways, calling the Suzi-Q a fatbike is a bit of an injustice. It really does feel more like a mountain bike that happens to have some seriously fat tires. Call this what you will: Fast Fat, Fa(s)tbike, Race fat, Skinny fat, 27.5++ / 27.5 plus+ / 27.5 plus plus.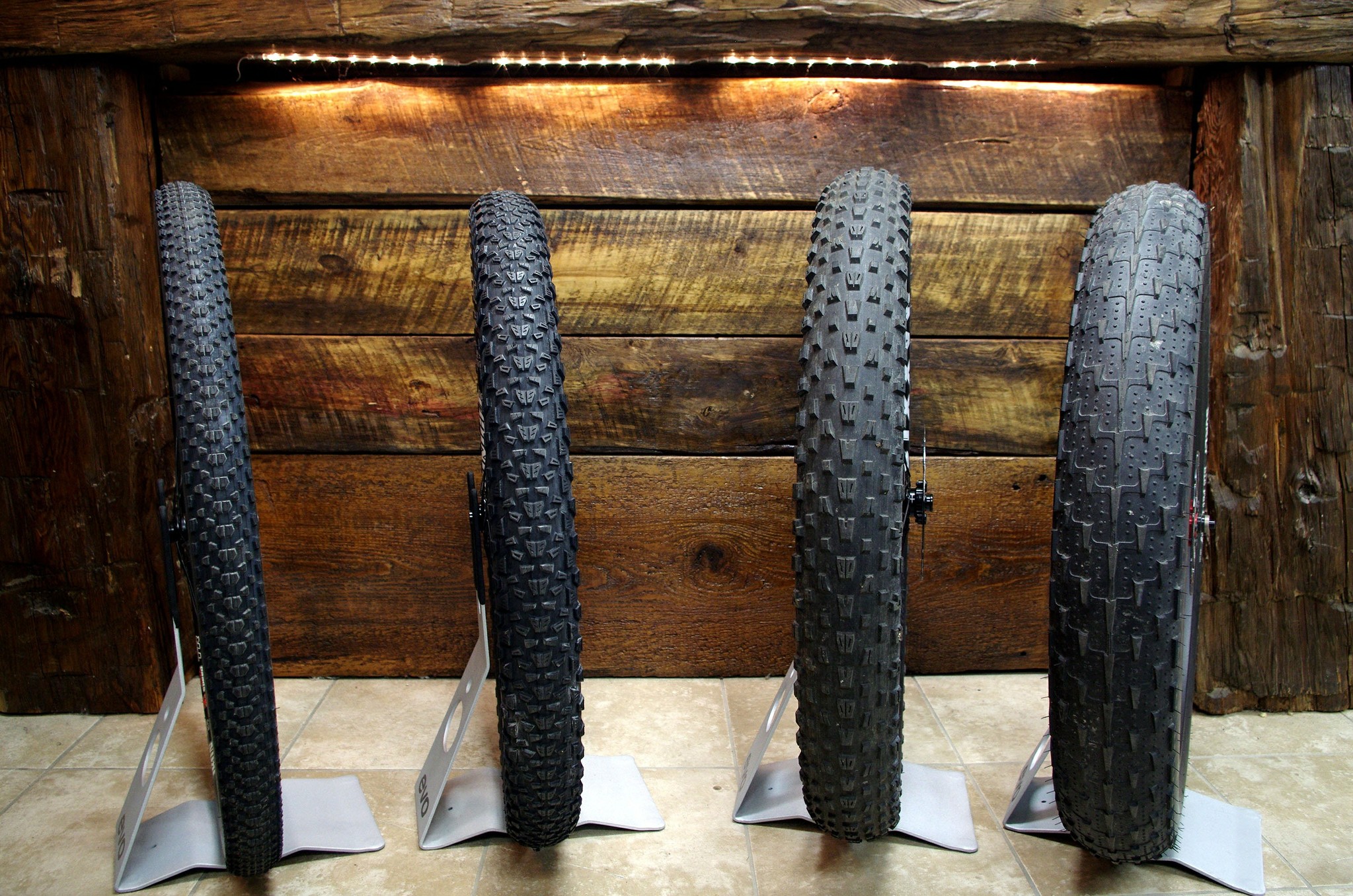 From left to right: 29x2.1", 27.5x3.0", 27.5x3.8", 26x4.8"
What's in a name
Although a number of people have asked me if the Suzi-Q is a women's specific bike, it is not. The name is both a throwback to the original Suzi-Q from the 90's and a reference to the narrow "Q-Factor" (effectively the width or "stance" pedals of the bike). The narrow width translates into a bike that feels much less bulky than a typical fatbike and much more like a regular mountain bike on both snow and dirt.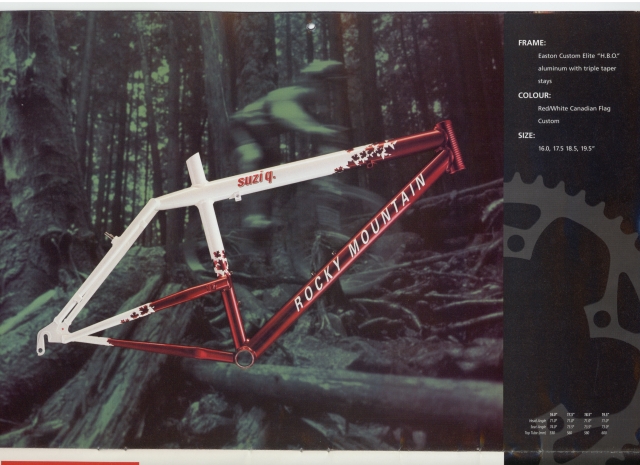 The original Suzi-Q
A Rocky Mountain Throw-Down
Having thoroughly tested a Blizzard –50 degree last season, I can make some direct comparisons between the ride of the two bikes and give my impression of which bike gets the nod in various situations. Our shop demo bike is outfitted with a Lauf Forks Carbonara compared to our 2016 Blizzard -50 degree with Bluto fork.
Deep Snow handling: Blizzard
If you are often the first gal or guy out on ungroomed, snow-covered singletrack you're going to be a little frustrated with the Suzi-Q. It just doesn't have the float that the fatter footprint of the Blizzard offers. The result is front-end washouts and overall instability, something I think it is also influenced by the narrower pedal stance of the Suzi-Q. Fatbikes with wide tires and a wider Q factor really do offer a tire and body-posture stability that can't be beat in those conditions. I also found the slacker head angle of the Blizzard to offer better steering in the deeper snow because it keeps the rider weight behind (rather than on top of) the front wheel. This takes us to...
Steering Traction: Blizzard
One of the most important factors in fatbiking is steering traction. In the case of these two bikes, the steering traction of the Suzi-Q is ultimately slightly less substantive than the Blizzard. There are lots of factors at play here: the contact patch is smaller on the Suzi and the head tube angle is slightly steeper, the combination of which mean this bike requires a bit of a soft touch when conditions are slippery. That being said, in groomed or colder/grippier snow, steering traction on the Suzi-Q is still very impressive. The more I get to know the bike, the easier it is to maintaining steering traction.
The 2016 Rocky Mountain Blizzard -50 showing off some fat Vee Rubber
Bumps: Suzi-Q
The larger diameter 27.5" wheels of the Suzi-Q really do roll over lumpy snow at least as smoothly as the 26" Blizzard. Experimenting with tubeless tire pressures between 4-10 PSI, I feel the Suzi-Q carries more speed through uneven snow. I quickly found a sweet spot for tire pressure that gave the best combination of bump-gobbling tire casing flex and pedaling efficiency. While putting down some hot laps on my local snow loop, I couldn't help but feel this bike kept its momentum and just rolled faster.
Flop/Squirm/Autosteer: Suzi-Q
There are a few factors that affect tire flop / squirm / auto-steer. Wheel and tire weight, head angle (trail), and tire profile/pressure seem to the biggest influences. Rocky's efforts to reduce this effect have paid off as it's significantly less evident than full fat 26'ers. Running the Maxxis Minion FBF tubeless both front and rear, auto steer is not apparent on snow covered trails, and only really stands out in the trailhead parking lot. The effect is minimized due in part to the tire profile (shorter sidewall)…it doesn't collapse on itself as readily as the 26" wheels a higher tire-to-rim ratio and low pressures. The steeper head angle helps here as well, along with a suspension fork up front which allows running just a smidgen higher pressure on dry trails.
Braking and Acceleration: Tie
I was astonished at the amount of traction from the rear end of the Suzi-Q. My impression is that it rear wheel traction under acceleration is equal to that of the Blizzard. Despite the rear mounted Minion FBF technically being a front tire, it takes a real effort to make the back end break away, and traction on short and punchy snowy climbs has been exceptional. The short chainstays put the rider weight more on top of the rear axle, and I think ultimately this gives the rear end it's hookup.
Braking has been a similarly confident affair, with both front and rear tires hooking up well in the snow and providing gobs of confidence when it comes time to scrub speed in a hurry.
Agility: Suzi-Q
It's not just the head angle that makes the Suzi-Q an agile bike...it's the whole package. The wheels and tires, q-factor and frame geometry all add up to a bike that is quick enough to make small, last minute adjustments to stay in the packed snow lane, but it still feels stable enough to rip up the descents. Setup tubeless, my alloy version with Lauf feels incredibly light and quick on winter trails. It feels significantly lighter and faster than the Blizzard, even though the weight on my base model is only lighter by a few pounds.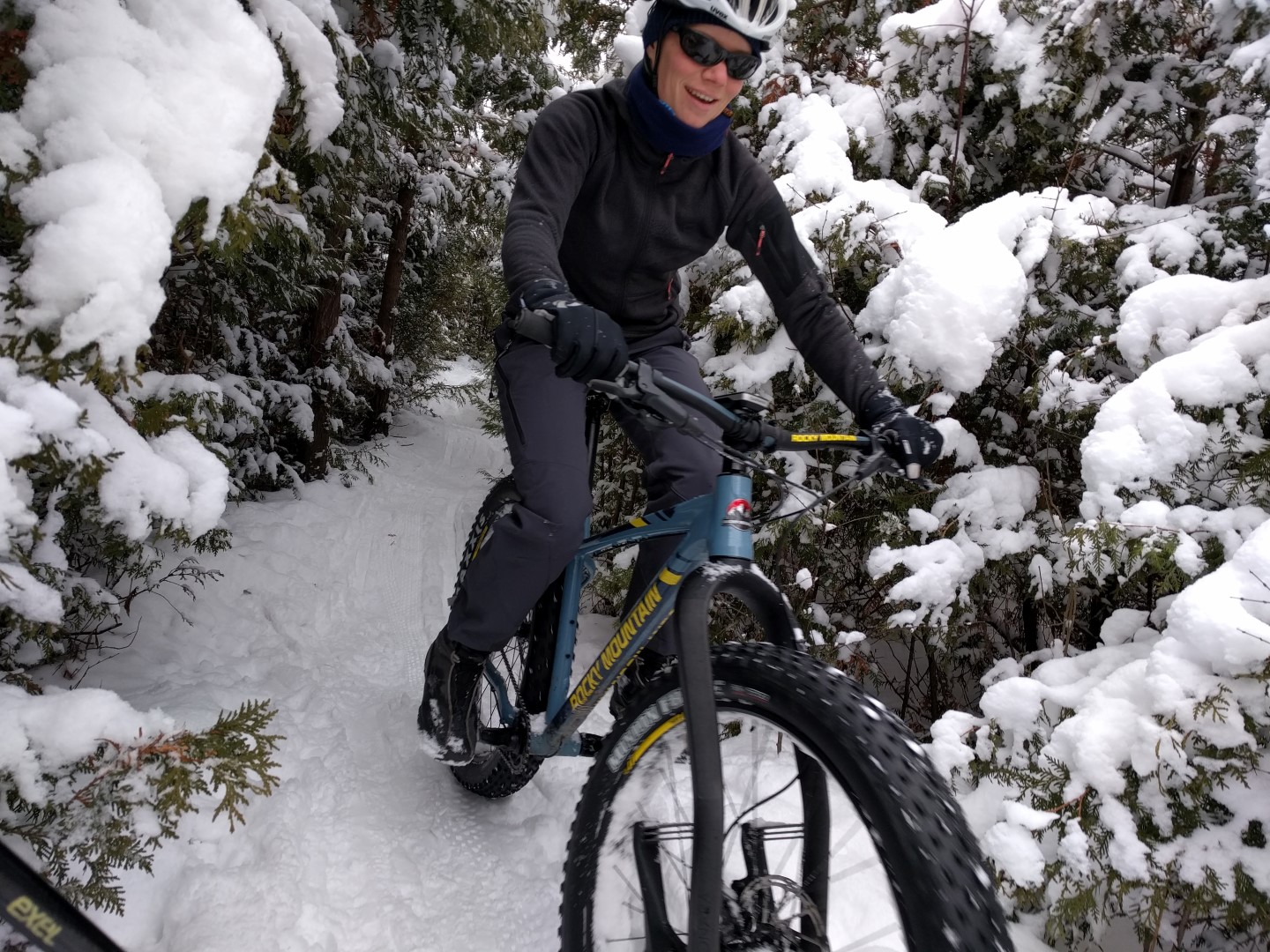 Flexibility: Suzi-Q
The Suzi-Q offers the kind of flexibility that plus bikes have been known for, but takes tire size to the next level. If trekking is your thing, Suzi-Q's are spec'd with bikepacking in mind sporting numerous frame bag, cage and fork mounting points for all your gear. It can also take 29+ wheels built on the appropriate axle widths, allowing you to transition the bike to a more dirt-oriented setup for summer months if desired. Compared to the Trek offerings, the lower Q factor should be a big advantage for long days in the saddle.
The carbon versions are versatile in a different way as their exceptionally lightweight packages (hovering around 26 lbs stock ) make them even more attractive as a year-round high performance machine. A carbon model with Lauf fork and carbon wheels would be an absolute weapon in the singletrack.
Conclusion
Is the Suzi-Q a great bike? Straight up, yes. Is it the right bike for you? As always, it depends. If your local winter mountain bike trails are either groomed or have enough traffic to regularly pack the tread, the Suzi-Q should absolutely be on your short list. It's a more versatile platform than the Blizzard or other 26" fatbikes, it's is easier on the knees, handles better in packed conditions and non-winter seasons. It's faster, flickable and fun, and a very different experience than a traditional fatbike. If you are a back-country rider, powder perouser, back-woods brawler, winter wanderer or off season rambler looking for a dedicated snow bike, the Blizzard might well be a better choice. With forward thinkers like Otso and Trek on board, and tire manufacturers like Maxxis and 45 NRTH starting to bring out new rubber, I am confident the 27.5++ fa(s)tbike is here to stay. With more and more trail organizations packing and grooming local loops, I'm also very confident there will be an ever expanding network of trails where this bike will excel.